Every year on October 13th World Thrombosis Day (WTD) is celebrated. The day focuses attention on the overlooked and misunderstood condition of thrombosis. The mission of WTD seeks to increase global awareness of thrombosis, including its causes, risk factors, signs/symptoms and evidence-based prevention and treatment. They aim to reduce death and disability caused by the condition. (1)
With thousands of educational events around the world, WTD and its partners place a global spotlight on thrombosis as an urgent and growing health problem. It also encourages organizations in countries across the globe to conduct appropriate and aligned campaigns in their countries and regions.
What is Thrombosis?
Thrombosis is the formation of a blood clot in a blood vessel. The vessel may be any vein or artery as for example, in a deep vein thrombosis (venous) or a coronary artery (arterial). The clot itself is termed a thrombus. 1 in 4 people worldwide are dying from conditions caused by thrombosis. (1)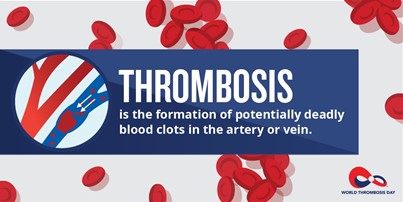 VTE
Venous thromboembolism (VTE) is a condition in which a blood clot forms most often in the deep veins of the leg, groin or arm (known as deep vein thrombosis, DVT) and travels in the circulation, lodging in the lungs (known as pulmonary embolism, PE).
Together, DVT and PE are known as VTE - a dangerous, potentially deadly medical condition. Being in a hospital can increase your risk of developing VTE. Hospital-associated VTE consists up to 60 percent of all VTEs annually. Others include cancer-associated thrombosis and gender-specific risks. (1)
Therefore, it is highly important that WTD is celebrated every year to raise awareness of the severity of it. WTD 2021 empowers individuals to talk with their healthcare providers about their risk for thrombosis and appropriate prevention. It also empowers individuals to seek immediate medical attention if they have signs and symptoms.
Get Involved
#ClotChat
To raise awareness of thrombosis, one of the events held to celebrate WTD is #ClotChat. This will be the eighth annual #ClotChat and will be held on Twitter at 11am for an interactive discussion about Thrombosis. The discussion will be held by experts such as C. Michael Gibson, M.D., Prof. Beverley Hunt, O.B.E., Claire McLintock, M.D., Elliott Haut, M.D., Marc Carrier, M.D. and Dr. Satya Prakash Yadav.
#MyClotStory
Around the world, blood clot survivors are sharing their stories on this WTD, through the #MyClotStory campaign. It's such an important campaign to spread awareness through such inspiring stories. Due to the high volume of story submissions WTD has received, the #MyClotStory profiles will be published throughout the year.
Also, people from around the world are taking Survivor Selfies for World Thrombosis Day to build awareness in their communities and to magnify the importance of asking for a risk assessment.
Take The Pledge
Sign the VTE pledge! Venous thromboembolism (VTE) is a life-threatening but preventable condition that affects millions of people worldwide. With 60 per cent of VTE cases occurring during or after hospitalization, it's critical to talk with your healthcare provider about your risk.
When you arrive at the hospital, you should be checked for your risk; however, if you haven't, it's important you ask a doctor or nurse. Equally, if you've been told you're at risk of thrombosis and have been given medicine, stockings or other devices, it's important that you understand how to use them properly. The purpose of this is to pledge that everyone has a right to know if they are at risk of developing VTE and how to best reduce that risk. (1)
References:
1. https://www.worldthrombosisday.org/
Image Credits:
1. https://www.worldthrombosisday.org/