UK Prime Minister Boris Johnson arranged to visit Hart Biologicals last Thursday.
Accompanied by party by-election candidate Jill Mortimer and Tees Valley mayor Ben Houchen, who are currently touring the local area ahead of the upcoming May by-election.
Upon his arrival, Mr Johnson was greeted by our staff and was taken on a complete tour of the site, alongside Ms Mortimer and Mr Houchen.
On the tour, they had some hands-on experience with various diagnostic and medical devices present at Hart, including the filling machine pictured below (1) and later the ROTEM Delta devices (4).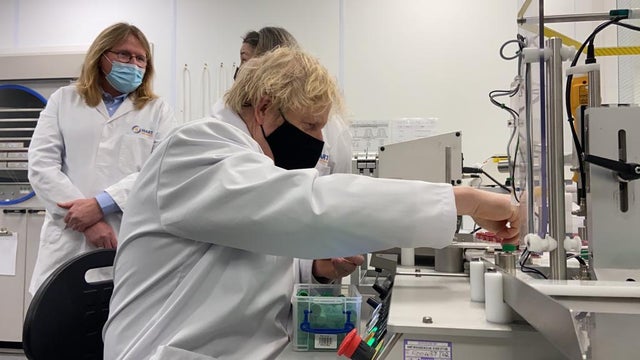 Introductions were made to some of our staff in the external break area. They were greeted with the exchange of some Covid-friendly elbow bumps before they sat down for a coffee and a socially distanced chat together.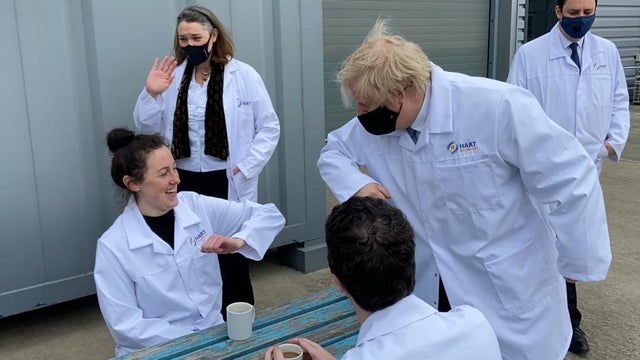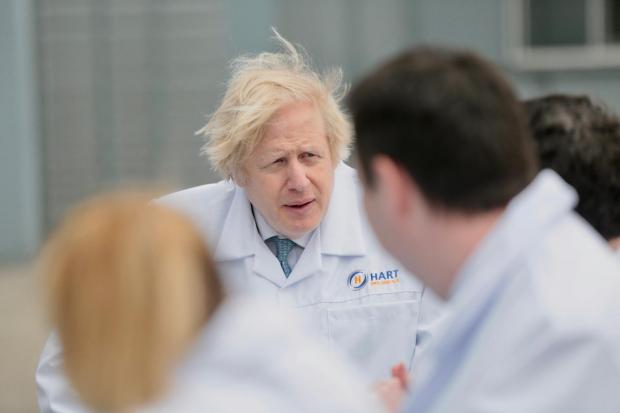 Hart's Managing Director, Alexander Ebinger said: "The experience was very professional, his team was in contact via email for a few days and then came in twice before the event to do walkarounds.
Everything was prepared well and ran through several times. I liked the organisation as it prevented any holdups or awkwardness on the day as we were obviously under some time pressure.
Everybody from their side were very professional and polite, trying to interrupt workflow as little as possible. Boris Johnson himself was outgoing and made our staff very comfortable when interacting.
I enjoyed our conversation at the start about the history of the company and my way into Hart Biologicals. The visit is excellent recognition for the business, highlighting the availability of specialised bio-tech industry in the North East."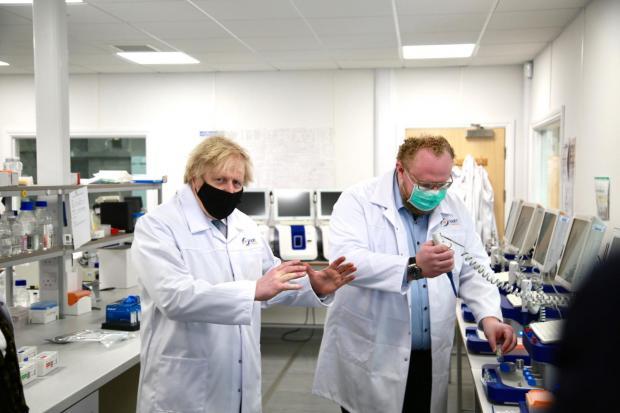 To find out more about the visit, click the links below:
https://www.itv.com/news/tyne-tees/2021-04-01/prime-minister-boris-johnson-visits-hartlepool-ahead-of-may-by-election
https://www.hartlepoolmail.co.uk/news/politics/boris-johnson-visits-hartlepool-and-explains-why-he-believes-voters-will-back-the-tories-at-town-by-election-3186526
https://www.thenorthernecho.co.uk/news/19204214.boris-johnson-promises-a-vision-change-hope-visits-hartlepool/
https://www.gazettelive.co.uk/news/teesside-news/prime-minister-boris-johnson-campaign-20302625
Image Credits
Mark Payne (2021) Boris Johnson inside Hartlepool firm Hart Biologicals. Available at: https://www.hartlepoolmail.co.uk/news/politics/boris-johnson-visits-hartlepool-and-explains-why-he-believes-voters-will-back-the-tories-at-town-by-election-3186526
Mark Payne (2021) Boris Johnson greets Hart Biologicals worker Kensey Robinson by touching elbows during his visit to the Hartlepool business on Thursday. Available at: https://www.hartlepoolmail.co.uk/news/politics/boris-johnson-visits-hartlepool-and-explains-why-he-believes-voters-will-back-the-tories-at-town-by-election-3186526
Sarah Caldecott (2021) Boris Johnson at Hart Biologicals. Available at: https://www.hartlepoolmail.co.uk/news/politics/boris-johnson-visits-hartlepool-and-explains-why-he-believes-voters-will-back-the-tories-at-town-by-election-3186526
Sarah Caldecott (2021) Boris Johnson at Hart Biologicals firm in Hartlepool. Available at: https://www.thenorthernecho.co.uk/news/19204214.boris-johnson-promises-a-vision-change-hope-visits-hartlepool/